Everywhere I turn, I am finding more and more regarding these missing pooches I mentioned in the previous posting. I was initially looking for Halle Berry's incident with her missing dogs (also mangled by coyotes)when I stumbled upon this nightmare in the works.
Amazingly, two of these little animals were...mangled by Coyotes.
Where is PETA when you really need them?
Demi Moore's Doggie went missing in 2005, coyotes suspected
I will include some links at the bottom of this blog for further looking into this topic.
I wanted to do something with Katie Holmes & Tom Cruise because for some reason, every time I go hunting for images I end up with these two in MK obvious clothing and behavior.
We can start by a comment made by Katie who states that she always knew she would marry Tom
"When Top Gun came out, my sisters were like, 'Oh, my God, Top Gun! Tom Cruise!' And I very confidently said, 'I'm going to marry him one day," 30-year-old told 'Glamour' magazine....
Katie looks pretty dazed while Tom wears the common black striped item. I think there may be something to this Golden Couple...
Most parents dress their toddlers in heels, especially in public. If not, these folks certainly have a hand in setting the trend. Tom & Katie approved!
I thought it was ironic the first time I spotted the ruby slipper on Mrs. Cruise and Suri and they are making constant use of them as well as animal prints. One has to wonder that if all of this is one giant massive coincidence, why do these known mind control themes constantly appear with these people...and their children? It does indeed appear that they are both adhering quite a few programming behaviors and using many items to enforce this idea. We have not one, but many different styled red shoes for Suri who I suspect is undergoing conditioning and has been since birth. Animal prints, the black and white hypnotic coloring and naturally, we will occasionally find a stuffed toy (mainly rabbit) not too far behind Suri. Since animal prints suggest sexual programming, I think we have an idea of what's happening here... Note the paparazzi is always present.
Here Katie & Suri go to American Girl store - through the flashing cameras, into a store and back out of the doll store again through aggressive photographers and flashing lights. I'd just like to know how some of these photographers discover where these stars will be heading...
Suri is credited for choosing her and her mothers clothing?
Katie Holmes starred in a film before she was married to Tom Cruise titled The First Daughter. I wanted to note a few things just in the trailer: Hello kitty doll, need to be "normal", princess theme, presidential model idea and double speech used in the trailer. I find the entire thing creepy since she wed Tom Cruise in a fairytale scenario shortly after this film.
Earlier in her career (released in 1998) she stars in Disturbing Behavior where she is a local misfit living in a town where the youth are being programmed. Note the mention of biting the head off of kittens in the trailer. And be careful not to go following those commands coming out of the screen during the trailer. If you can see it, you can see it.
Christmas 2002 and Katie was honored to be asked to host a national holiday celebration held by President Bush and First Lady Laura Bush. The Christmas in Washington gala was a national broadcast, the proceeds of which benefited the Children's National Medical Center. This appearance alone highlights her status as possible Presidential Model involvement.
This is a clip of the infamous sofa dance done by Tom Cruise once he discovered his Stepford Wife was just about complete. Be aware of his connections with Scientology.
An interview with Katie Holmes discussing her relationship with Tom and other topics. She presents herself as very bubbly, very youthful in her presentation and she appears to have difficulty focusing on topic. No worries, she's all polished up now. *Note the bottom of her shoes are red. The clip shown is at a train station evoking the freedom train promise that these people go through.
Here is a trailer clip to The Stepford Wives if you are not familiar with the story:
As an oddity, I have also noticed that before some major public transformation of these people 's "career" they have a tendency to artistically portray their own destruction. Here is one scene from the film The Gift (2001)where she is murdered and dumped into a swamp over a jilted lover:
I can say at this point that it does appear Mr. Cruise is raising two kittens. It is not hard to understand that his wife and child are constantly seen wearing Project Monarch clothing and shopping for MK'ed items while being pursued by paparazzi at all times. Her films raise some questions as to her gradual morphing into a high level slave wife. And if you are familiar with my video series, you will be notably suspicious to see Madonna and daughter photographed with the couple. Katie notably in red.
Finished Product on Display at the Bambi Awards for Kate
I am beginning to find these tabloid videos incredibly useful for the blatant programming information they seem to provide so abundantly. We have something here that mentions Katie having to write "confessions" because of their "wedding" agreement. If Katie is under control, which it appears she is, this is a form of control that utilizes alters that are designed specifically to tell on the subject should they ever disclose any information to anyone.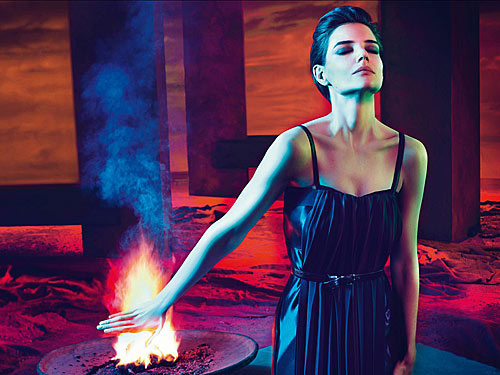 Typical of Monarch Slaves we find bruises on married Kate's knees indicating some form of abuse. During the courtship, I was blown away at the people who were up in arms over this transaction...er relationship. The constant mention of Katie needing to be saved now has a completely different meaning to me. The youthful girlish personality that was potrayed as Katie Holes prior to Tom Cruise is only available through interviews and reruns of Dawson's Creek. And even then, were we really watching Katie?



Tom Cruise has an interesting role in the film Tropic Thunder. Note hand gesture at 0:27



Here is a brief clip of the infamous Tom Cruise Scientology interview:




I can say that I noticed a big change in Tom Cruise after the public debacle regardingBrooke Shields use and promotion of anti-depressants. His standpoint was such that it would make a massive difference in the medicated population. Something had to be done regarding all of that outspoken behavior against the pharmecuticals. I am constantly fighting with the idea that someone either has this guy by the balls or it's another display of alter personality action or any other multitude of possibilities. One thing I know for sure is that Mr. Cruise has some explaining to do regarding his family's Monarch symbolism.




Here are some interesting links I found highlighting some of these celebrities' dogs. Simple food for thought...

Halle Berry has two famous Maltese dogs. She has both a male and a female. They are named Willy and Polly. This famous actress takes her dogs just about everywhere and often brings them to photo shoots
Heather Locklear
has a beautiful male Maltese dog. This little guys' name is Harley. We would assume, named after the famous motorcycle.
Torrie Wilson
, the famous WWE wrestling star and TV personality owns 2 dogs, one of them this famous Maltese named Chloe. Her other dog is a Chihuahua. In interviews, she has said that considers to be her babies
Elizabeth Taylor
had a Maltese named Sugar. When her dog passed away, she then got a new Maltese named Daisy. This Maltese is so perfectly white, she blends right into Liz's clothes! (And she looks a little like her Maltese, too!)
Anna Nicole Smith
had a famous Maltese. This was a lovely Maltese dog named Marilyn, named after
Marilyn Monroe
, of course!
Eva Longoria
has a famous Maltese named Jinxie. She considers her dog to be part of the family, so much that Jinxie followed her down the aisle when she married
Tony Parker
Lindsay Lohan
has an adorable famous Maltese named Chloe (the same name as Torrie Wilson's dog)
More celebrity Maltese and photos after the jump!From
Annalise Maltese
:
Marilyn Monroe
-" Maf Honey" (given to her by
Frank Sinatra
)
Elvis Presley
and girlfriend Linda Thompson -"Foxhugh"
Tony Bennett
- "Boo" Hiroshi Abe - ("Boo and Chi")
Liberace
- "Charmin, Solo and Leah"
Tallulah Bankhead
- "Doloras"
Bryant Gumbel
- "Cujo"
Britney Spears
-"Lacy Loo"
Bon Jovi
Tiko Torres
George Carlin
Mia Farrow
Lee Remick
Frank Sinatra
Rosemary Clooney
Brook Shield
Sarah Michele Geller
Barbara Striesand
-"Babs"
Ashely Tisdale
- "Blondie"
Billy Ray Cyrus
Jeanie Buss
- "Maltese Princess"
Jessica Simpson
-"Daisy"
Kristin Chenoweth
- "Maddie"
Macy Cruthird
-" Gidget"
Ross Mathews
- "Louise"